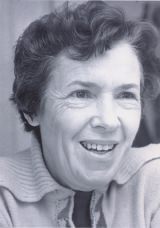 Mary Yardumian was born on January 23, 1924 in Noodle, Texas. She graduated from Southwestern University in 1945 with a bachelor's degree in education and earned a master's in education from the University of Miami in 1970. She married Richard Yardumian in 1948.
Mary was inspired to become a literacy volunteer while living in Florida after hearing a speech by well-known literacy educator Frank Laubach. In 1971, her husband's job brought them to Pittsburgh. Mary looked for literacy programs in the area but could find none. She began training volunteers and helped at least twelve new programs get started. In 1976, Mary founded the Greater Pittsburgh Literacy Council (now Literacy Pittsburgh) with a group of volunteers from the area. She ran the organization from her Mt. Lebanon home. By 1982, the demand for instruction had gotten too great for Mary and her volunteers to handle, and the Council became a non-profit corporation, adding a Board of Directors, an office, and a professional staff. In 1984, Mary received the prestigious PAACE Outstanding Adult Educator Award and the National Jefferson Award for her distinguished public service. She continued her literacy tutoring until she was diagnosed with Alzheimer's disease in 1995. She passed away in 2005.
Mary was truly an "unsung hero." She lived a full and compassionate life, enriching the lives of many adults and families. Her legacy lives on in our Yardumian Society, which recognizes individuals who take a leadership role in the success of Literacy Pittsburgh's students.