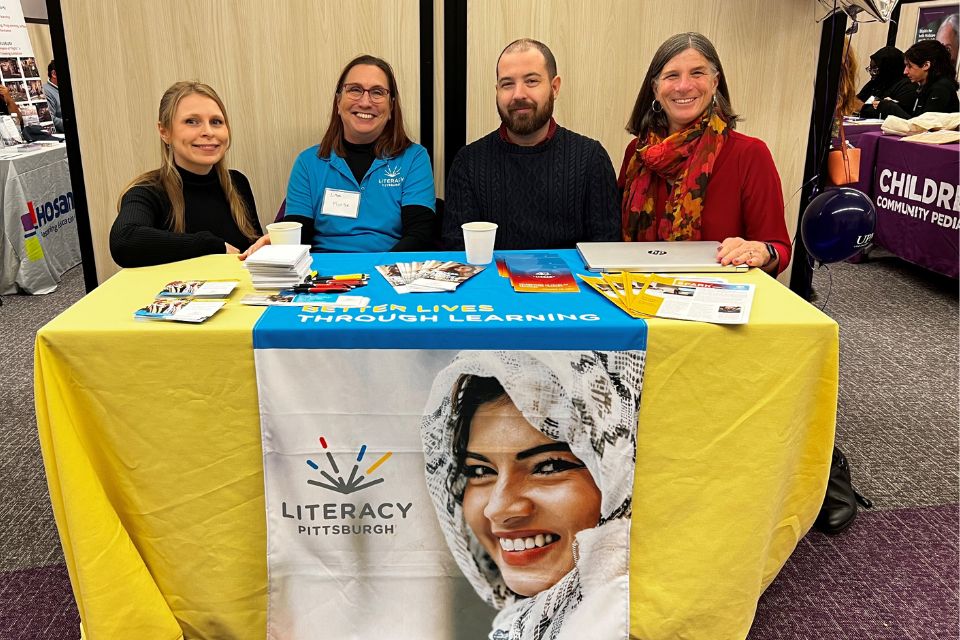 Literacy Pittsburgh is proud to partner with the new UPMC Health Plan Neighborhood Center to provide a one-stop shop for health and wellness and community needs in Pittsburgh's East End. Located in the Village at Eastside on Penn Avenue, the center opened in December 2022 and has since served 3,500 individuals in the community. People do not have to be UPMC members to use the services provided. Literacy Pittsburgh holds regular office hours to meet with clients for intake or testing. 
We join 30 other community partners such as Career Link, Greater Pittsburgh Community Food Bank, Jewish Family and Community Services, Partner4Work, and PA Women Work, whose presence allows for cross-referrals and awareness of events and initiatives of interest to our adult learners. The Center also provides Literacy Pittsburgh with space for volunteer tutor trainings and a citizenship class—four students succeeded in becoming citizens in the past month!
"The ultimate goal," according to Director Thomas Washington, "is to improve people's health and wellness. Before you can do that, there may be underlying needs that are not directly related to health and wellness." Along with housing and food insecurity, research shows that literacy and education impact health outcomes. Literacy Pittsburgh welcomes the opportunity to support UPMC Health Plan's broader vision of fostering community health.
Check out a recent NextPittsburgh spotlight video about the UPMC Health Plan Neighborhood Center.
Literacy Pittsburgh (formerly Greater Pittsburgh Literacy Council) helps create better lives through learning. Recognized as a national leader in adult and family literacy, Literacy Pittsburgh is the largest provider of adult basic education in Allegheny and Beaver Counties. Last year, Literacy Pittsburgh helped some 3.700 individuals acquire the skills needed to reach their fullest potential in life and participate productively in their communities. Literacy Pittsburgh provides free, personalized instruction in workforce readiness, high school diploma test preparation, digital literacy, English language learning, math, reading, and family literacy through one-to-one and small class instruction. Founded in 1982, it serves local adults through numerous neighborhood locations and its Downtown Pittsburgh Learning Center.