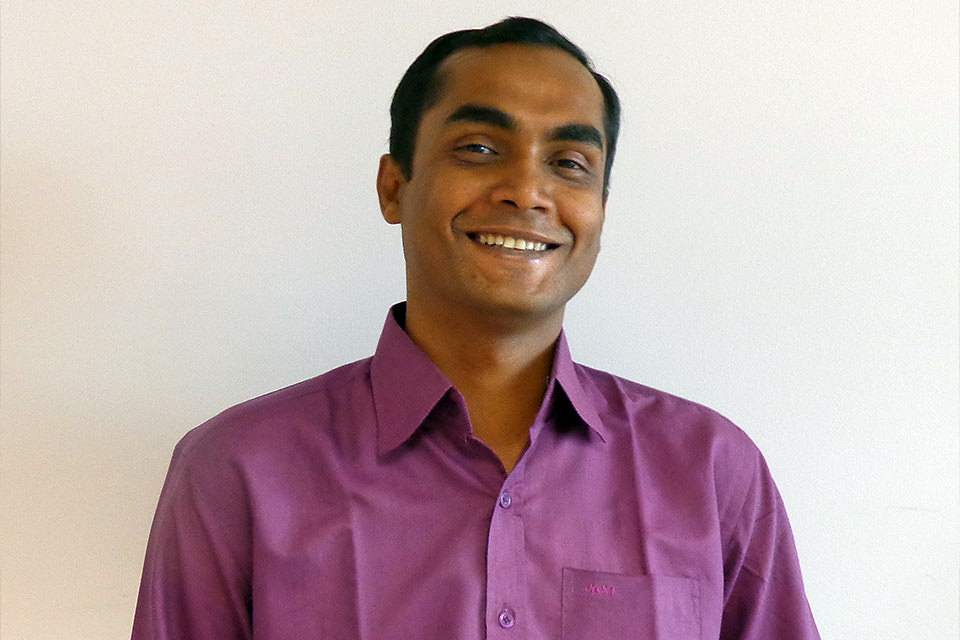 Tuhin was just 16 when he began writing poems that called out the persecution of religious minorities in his native Bangladesh. He was accused by extremists of being an "enemy of Islam." In 2015, his life was threatened by a group linked to al-Quaeda. He reported the incident to the police who told Tuhin they would be unable to protect him from being attacked.
He went into hiding. Eventually, he learned about another Bangladeshi writer who was granted safety abroad through the International Cities of Refuge Network. Tuhin applied and was accepted by City of Asylum in Pittsburgh.
Tuhin arrived in Pittsburgh in 2016, with limited English skills and haunted by the trauma he faced in Bangladesh. With the help of Literacy Pittsburgh, Tuhin improved his English and became more comfortable in his new home. 
"I don't feel as insecure here as I used to feel back in Bangladesh," says Tuhin. "I can write freely. I can express my opinions and thoughts freely in my writings."
Tuhin is the author of eight poetry books in his native language, Bengali. His writing and interviews have been featured in Sampsonia Way Magazine, North Side Chronicle, Pittsburgh Post-Gazette, BBC Hindi, Voice of America, NPR and Words Without Borders. Since he has been in Pittsburgh, Tuhin has been editing a web magazine, called "Somoyer Shabdo" in his native language, Bengali, to promote freedom of speech.
He is currently a member of Literacy Pittsburgh's Thrive Young Professionals Advisory Board.
An excerpt of one of his poems as published on The Bare Life Review is shared below.
Exile Poems
By Tuhin Das
Translated from the Bengali by Arunava Sinha

24
I am no longer obsessed with collecting works of art.
The passion for building my library has deserted me.
The canvases I have left behind, locked away in trunks
Twelve thousand miles away, must be covered in dust now.
The desire to learn origami has died.
Even the important documents I discarded
Have turned useless away from my sight.
My homeland hasn't changed much, my life has.
My existence is now manuscripts in two suitcases.
Between my meagre clothes and all my papers,
They fit snugly.
My life has shown
A man doesn't really need too many things
Life goes on even without anyone to say goodbye to.

26
A memory like a dusty old photograph.
Today I discovered
I have no pictures of my mother or sister.
No one takes care of the statues in my country,
The extremists want to break them all.
Many of the roads have had their names changed.
A man who sold peanuts used to tell us
The most mysterious tales in town. He is dead.
My sister had a daughter last month,
I've lost the chance to see her lovely childhood,
The temples are becoming shrouded in a mist –
Sometimes they're victims to sudden attacks.
There's been nothing new in Bangla poetry.

27
The police have set fire to the homes of indigenous people.
Will I ever be able to return to my homeland
Where the army has burnt the tribal student leader
Romel Chakma's corpse? It's not in the newspapers.
The tribal woman leader Kalpana Chakma,
Abducted twenty years ago, will never come home either.

38
Next to Artisan Bakery in Gulshan,
A girl child is born in a hospital.
Your name could be Freedom or Revolution.
You're lying on the floor of the clinic,
Next door terrorists create another Orlando.
Your father is lying on the floor,
Bullets strike the wall of the clinic,
And your mother trembles as grenades explode,
Your name could be Mukti or Biplob.
In Artisan next door, they slaughter twenty foreigners,
Commandos enter the next day, the weeds of civilisation
Are rooted out, your parents emerge from the hostage situation,
Like you, with the taste of freedom.
There goes the armoured car, roaring
On the street, back where it belongs.
The soldiers' guns hang lazily on their backs,
Peace is returning to our world.
Notes: Numbered according to the poems
27: In November 2016, Bangladeshi police set fire to the houses of tribal communities, known as Santals.
The Bangladeshi army abuses its power against indigenous people. In April 2017, a young Jumma student leader, Romel Chakma, was killed brutally by the Bangladesh army. Indigenous rights activist Kalpana Chakma was abducted on 12 June, 1996 from her home in the Chattogram Hill Tracts by the members of the Bangladesh Army. She is still missing.

38: "`Day of joy turns into day of grief': Awlad Hossain's wife had just given birth to their third child at Gulshan's Lake View Clinic on July 1, 2016 in the afternoon – hours before gunmen took control of Holey Artisan Bakery, located in the same compound, and took dozens of people hostage. Bangladeshi Army commandoes brought an end to the situation 12 hours later. As many as 20 people were found dead inside. Six attackers were killed." – The Daily Star, July 3, 2016
Literacy Pittsburgh (formerly Greater Pittsburgh Literacy Council) helps create better lives through learning. Recognized as a national leader in adult and family literacy, Literacy Pittsburgh is the largest provider of adult basic education in Allegheny and Beaver Counties. Last year, Literacy Pittsburgh helped some 3.700 individuals acquire the skills needed to reach their fullest potential in life and participate productively in their communities. Literacy Pittsburgh provides free, personalized instruction in workforce readiness, high school diploma test preparation, digital literacy, English language learning, math, reading, and family literacy through one-to-one and small class instruction. Founded in 1982, it serves local adults through numerous neighborhood locations and its Downtown Pittsburgh Learning Center.