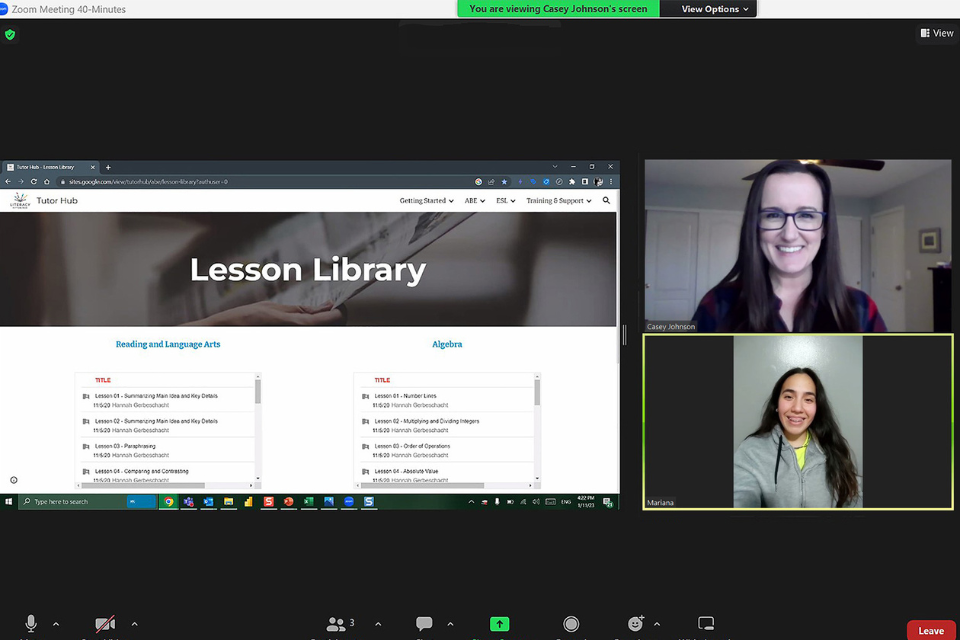 Mariana dreamed of becoming a nurse since she was a child. It seemed impossible until November 2021 when she moved to the United States from Spain with her parents and three siblings.
 "I know it sounds crazy that a whole family moved to a new country and didn't know the language," Mariana admits. "It was a family decision because we wanted more opportunities to build a good life and to offer my two little siblings better chances."
 Learning English was a crucial first step to achieving her dream and Mariana picked it up quickly by listening to music and watching shows in English. When she looked at enrolling in a nursing program she learned that the education she received in Spain was considered insufficient to enter postsecondary education.
 In February 2022, Mariana enrolled at Literacy Pittsburgh to get help preparing for the four exams required to earn a GED diploma. She was matched with volunteer tutor Casey Johnson. The pair meet twice a week to work on the skills and knowledge Mariana needs to earn a high school credential accepted by U.S. colleges.
 "Mariana is always ready to crush the lesson, try something new, and go as far as I can take her," Casey says. "Her commitment and drive inspire me to be the best tutor I can be so that she can reach her full potential as quickly as possible."
 Mariana passed her first exam – science – in December. She and Casey are now preparing for the social studies exam, and once she conquers that will move on to math and reasoning through language arts.
 "Casey is a lovely person and she helped me a lot," Mariana says. "She's very supportive and I feel that I can count on her. She's always showing interest to learn from me and where I come from. "
 At Literacy Pittsburgh, about one-third of students are taught by volunteer tutors like Johnson. Tutors do not need to speak another language or have past teaching experience. They do need to be age 18 and possess at least a high school credential. Tutors should commit to meeting with their student twice a week for two hours each time for at least six months.
 Casey, who works as a digital marketer, had been looking for a way to spend her free time in an impactful way. She knew she was in the right place once she learned about the important role she could play for a student invested in creating a successful life for themselves.
 The first step in becoming a volunteer tutor at Literacy Pittsburgh is to watch a 15-minute overview video available at in the Volunteer section of our website. Potential volunteers will register online to attend an introductory training that introduces concepts of teaching adult learners. This workshop is offered twice each month – once on Zoom and once in person.
 Tutors then choose to teach an English language learner or to help someone improve their reading, writing, and math skills. A second training focused on the specific techniques and resources needed for their area of interest is required.
 Once that training is completed tutors are assigned to a program coordinator who supports students and tutors in a geographic area. Across the agency 400 students are currently waiting for a tutor or a seat in a classroom. Once a match is made, the program coordinator ensures that tutors understand their student's goals. They provide lesson plan templates, textbooks, and other materials. Tutors and students meet in a public place at a time convenient for both. Some tutors and students meet virtually.
 "Regardless of what I need to do to be the right tutor for my student, Literacy Pittsburgh has all the resources and knowledge to support both of us," Casey explains.
 Tutors and students often develop a strong bond and learn from each other. One of Casey's favorite tutoring sessions was a reading lesson that focused on the U.S. civil rights history. After expanding on the history outlined in the text, the pair discussed how our history has produced our present, what we've done right, and how much work there still is to do.
 "We talked about our own observations, and imagined how we would've felt and reacted to various events in the late 19th to mid-20th century," Casey explains. "We laughed and cried together throughout the entire one and a half hour lesson. We had already gotten along very well, but that lesson strengthened our bond."
 Casey encourages anyone thinking of becoming a tutor to "just do it."
 "Tutoring has added so much fulfillment to my life," Johnson said. "I get to play a supporting role in another human's success."
Literacy Pittsburgh (formerly Greater Pittsburgh Literacy Council) helps create better lives through learning. Recognized as a national leader in adult and family literacy, Literacy Pittsburgh is the largest provider of adult basic education in Allegheny and Beaver Counties. Last year, Literacy Pittsburgh helped some 3.700 individuals acquire the skills needed to reach their fullest potential in life and participate productively in their communities. Literacy Pittsburgh provides free, personalized instruction in workforce readiness, high school diploma test preparation, digital literacy, English language learning, math, reading, and family literacy through one-to-one and small class instruction. Founded in 1982, it serves local adults through numerous neighborhood locations and its Downtown Pittsburgh Learning Center.