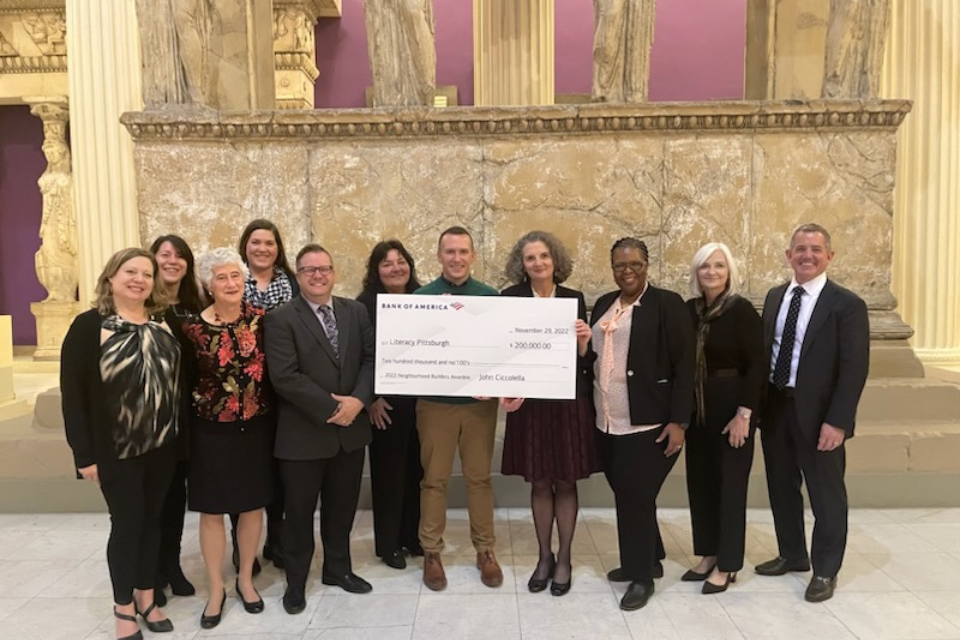 Literacy Pittsburgh was honored recently as a 2022 Bank of America Neighborhood Builder at an event at Carnegie Museums of Pittsburgh. This honor comes with a grant to support staff leadership development and Diversity, Equity, Inclusion and Accessibility (DEIA) initiatives at Literacy Pittsburgh.
This generous Bank of America investment will enable Literacy Pittsburgh to invest in its people to strengthen our high-performing, welcoming, and supportive culture. Given the rapid pace of change facing all of us, it is important that we equip our staff and the organization with skills, tools, and systems to manage change and remain resilient during turbulent times. Core to our resilience is growing an inclusive and welcoming culture where all students, staff, and volunteers can thrive. Read more
The investment will support our DEIA training and engagement efforts, along with work to build systems and processes that protect against bias and encourage high performance.  As part of this work, we have contracted with Outside Angle to help us build flexible, lightweight systems to manage change, strengthen alignment within and among our growing staff, and position us for success well into the future. The work will include semiannual learning retreats for all staff, along with leadership training and coaching. Complementing this change management and leadership development work is an initiative to improve our compensation and performance management programs. All of these efforts are designed to help Literacy Pittsburgh attract and retain talented professional staff while creating a welcoming and supportive culture.
This generous grant is the result of a competitive application process. We are proud to join a network of peer organizations across the U.S. that are expanding their impact in the community thanks to Bank of America's investment. Advancing economic mobility and nonprofit leadership through their Neighborhood Builders Signature Program® is one example of how Bank of America invests in local communities across the country. Since 2004 through Neighborhood Builders, Bank of America has invested more than $285 million in 50 communities across the country.
Literacy Pittsburgh (formerly Greater Pittsburgh Literacy Council) helps create better lives through learning. Recognized as a national leader in adult and family literacy, Literacy Pittsburgh is the largest provider of adult basic education in Allegheny and Beaver Counties. Last year, Literacy Pittsburgh helped some 3.700 individuals acquire the skills needed to reach their fullest potential in life and participate productively in their communities. Literacy Pittsburgh provides free, personalized instruction in workforce readiness, high school diploma test preparation, digital literacy, English language learning, math, reading, and family literacy through one-to-one and small class instruction. Founded in 1982, it serves local adults through numerous neighborhood locations and its Downtown Pittsburgh Learning Center.