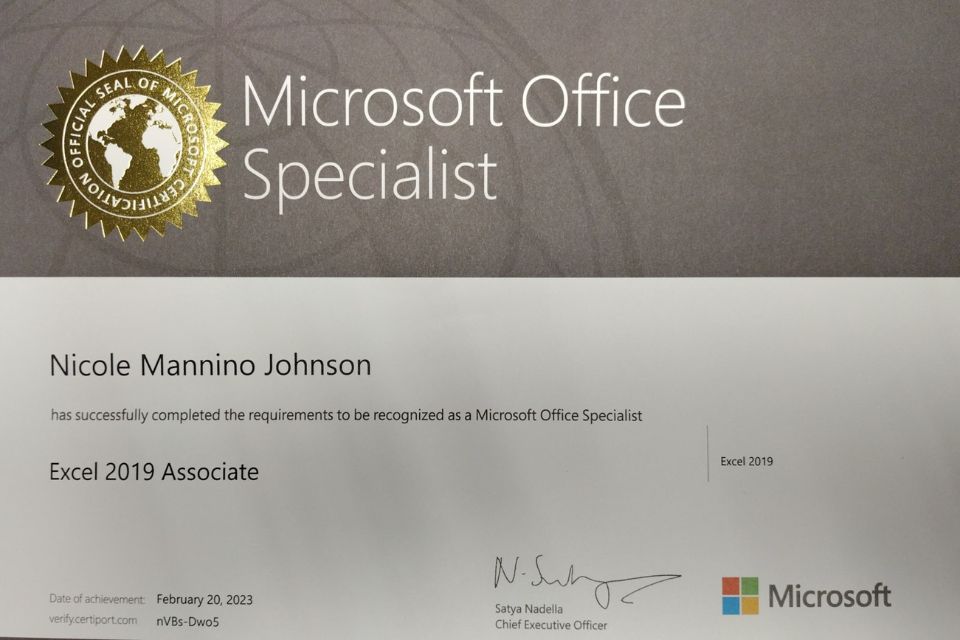 Literacy Pittsburgh's digital skills program is excited to offer Microsoft Office Specialist (MOS) Certification Preparation classes in Microsoft Excel. We are launching two cohorts in April, one in downtown Pittsburgh at our Downtown Learning Center and one in Beaver County at the Monaca Public Library. The classes will meet twice per week for 15 weeks. Students will receive a digital textbook, access to e-lab, and a voucher to take the exam after completing the coursework.  
The curriculum is developed by Labyrinth Learning and is aligned to prepare students for the certification exam. The classes are very practical, with many opportunities for hands-on practice. Additionally, students may borrow a device for the duration of the course if they do not have their own.  
According to Certiport®, 99% of all certification participants substantially increased their Microsoft Office "know-how" by becoming MOS certified, 89% of supervisors say that MOS certified employees are more proficient users of Microsoft Office programs, and 88% of participants reported that MOS certification makes them more effective ​(Pearson Education Inc.)​.
Our digital skills program has already been offering basic classes in Microsoft programs, including MS Word, MS Excel, and MS PowerPoint using the Northstar curriculum. These classes are a fantastic starting point for people without experience using these programs. After completing these, many participants have requested more advanced classes. As workforce development professionals, we know that gaining skills in Microsoft Office can increase confidence and hireability in many industries.  

The digital skills team prepared by going through the certification process themselves. Instructors are all experienced in using the curriculum, accessing the e-lab, and taking the test. The team is now preparing for Microsoft Word and Microsoft PowerPoint certification and will offer those to students in the near future. 
Literacy Pittsburgh (formerly Greater Pittsburgh Literacy Council) helps create better lives through learning. Recognized as a national leader in adult and family literacy, Literacy Pittsburgh is the largest provider of adult basic education in Allegheny and Beaver Counties. Last year, Literacy Pittsburgh helped some 3.700 individuals acquire the skills needed to reach their fullest potential in life and participate productively in their communities. Literacy Pittsburgh provides free, personalized instruction in workforce readiness, high school diploma test preparation, digital literacy, English language learning, math, reading, and family literacy through one-to-one and small class instruction. Founded in 1982, it serves local adults through numerous neighborhood locations and its Downtown Pittsburgh Learning Center.