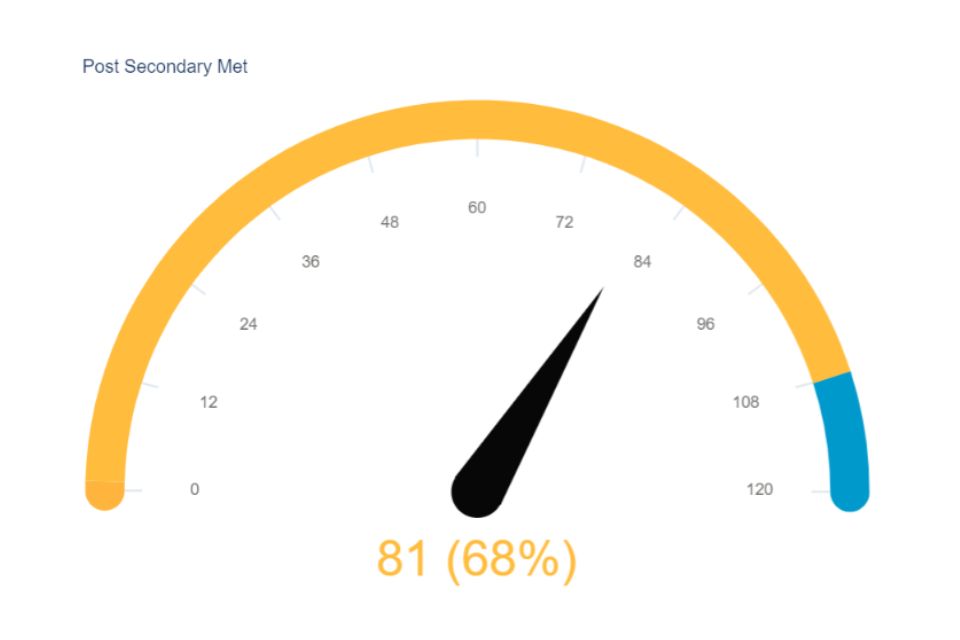 Each and every person involved with Literacy Pittsburgh contributes to the success of our students. At our recent staff retreat, we reflected on what it takes to support one student on their path to success. That success is represented by one "tick" in our data system, and we are continuously watching these results to ensure students are making gains and achieving goals.
Achieving that one single success takes a team effort. We could not advance even one tick without the dedication of our staff, volunteers, donors, and partners.
Each student's journey starts by learning who we are, whether from a friend who attended, a web search, a social media ad, or a referral from a partner. Our staff members created the advertising, developed the relationship with the partner, and ensured our website was easy to find and navigate.
Once a student inquires about attending classes or tutoring, a member of our enrollment team will call/text/email the student back and schedule orientation and testing. For some students, this process can take hours and multiple contacts if they are experiencing significant barriers.
At the same time, we are recruiting and training volunteer tutors to get them ready to meet with their first students. Matching student and tutor can be tricky based on location, education level, and the times each is available. Our program coordinators thoughtfully navigate that process while ensuring tutors have the materials and knowledge they need to be successful. 
Students who enroll in classroom instruction are taught by paid, professional teachers who also must be recruited, hired, and onboarded as openings occur. Students often attend classes with several teachers during their time here, especially if they start at a beginning level.
Our students face many barriers, and we have individuals on staff who help them to break those down by connecting them with community resources for legal help, SNAP benefits, or other needs.
Students also have opportunities to participate in career preparation programming, such as math brush up for the trades, communications skills workshops, computer skills classes, and more.
At every step, someone is cheering along and encouraging our students. Staff and tutors sometimes find themselves coaxing a student to keep pushing forward when life or classwork gets challenging.
Behind each of our program staff are people who ensure that data is tracked appropriately, that rent is paid, supplies are ordered, and paychecks are cut.
We have development staff who secure donations and grants to keep the programs running and the lights on. We could not pursue our mission of Better Lives Through Learning without the generosity of so many. Our finance staff ensures those donations are spent responsibly and as efficiently as possible.
Our CEO and leadership team continually push the organization to expand its impact on the community and refine programs to help students achieve success.
 Every one of our staff members needed to be recruited, vetted, onboarded, trained, and mentored so that they can perform their job effectively and efficiently. No matter the role, ensuring our students and our organization succeed is top of mind. Each staff member is dedicated to helping that one tick – that one student – move forward.
Most of all, we couldn't do this work without the support of our community. Your generosity, time, and expertise are crucial to moving our students forward to their next steps.
Literacy Pittsburgh (formerly Greater Pittsburgh Literacy Council) helps create better lives through learning. Recognized as a national leader in adult and family literacy, Literacy Pittsburgh is the largest provider of adult basic education in Allegheny and Beaver Counties. Last year, Literacy Pittsburgh helped some 3.700 individuals acquire the skills needed to reach their fullest potential in life and participate productively in their communities. Literacy Pittsburgh provides free, personalized instruction in workforce readiness, high school diploma test preparation, digital literacy, English language learning, math, reading, and family literacy through one-to-one and small class instruction. Founded in 1982, it serves local adults through numerous neighborhood locations and its Downtown Pittsburgh Learning Center.