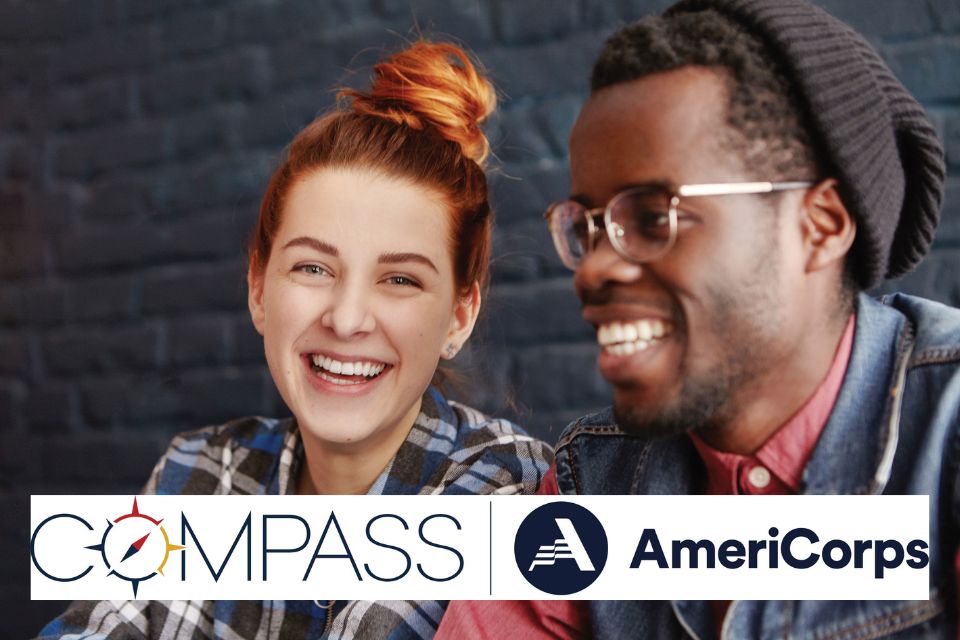 This September, Compass AmeriCorps will welcome a brand-new cohort of service members. Entering its 14th year, Compass AmeriCorps provides extra capacity for local nonprofits to serve the immigrant and refugee community in Pittsburgh.   
Compass AmeriCorps members are placed with several nonprofit partner agencies in Allegheny County: Jewish Family & Community Services, SHIM, Allegheny Intermediate Unit, Goodwill of Southwestern PA, and of course, Literacy Pittsburgh.  
We are still in need of applicants for several roles for the coming service year, including food pantry associate, resettlement and resource navigation assistant, youth mentoring program assistant, and English language instructor. While prior experience is helpful, we are not looking for a particular skill set or background. We seek to engage members of various experience levels who are open to learning, curious about other cultures, and most importantly, want to serve the community. 
Over the course of their eleven-month term, members engage in service to immigrants and refugees in Allegheny County. That service comes in many forms—running the gamut from teaching English, helping to build employment skills, connecting clients to needed community resources, all the way to youth mentoring. Whatever their day-to-day looks like, the common thread among all Compass members is that they are helping immigrants become self-sufficient, flourishing members of the Pittsburgh community.  
Members have a lot to look forward to in their year of service. In addition to building valuable experience and professional skills, members are most interested in building connections with the communities they serve, as well as friendships with their fellow corps members. Members have an opportunity to reconnect during monthly full-Corps trainings and service projects, two annual reflection retreats, and a mid-year conference for all Pennsylvania AmeriCorps members.  
For members to serve full-time they receive a basic living stipend, a free bus pass, health insurance and other benefits. After successfully completing the goal of giving 1700 hours of service, members are also eligible for the Segal Education Award (equivalent to a Pell Grant) to pay student loans or future educational costs.  
For those interested in joining Compass AmeriCorps, we are actively recruiting for the 2023-2024 service year, which begins on September 5. Visit compassamericorps.org for more details.
Literacy Pittsburgh (formerly Greater Pittsburgh Literacy Council) helps create better lives through learning. Recognized as a national leader in adult and family literacy, Literacy Pittsburgh is the largest provider of adult basic education in Allegheny and Beaver Counties. Last year, Literacy Pittsburgh helped some 3.700 individuals acquire the skills needed to reach their fullest potential in life and participate productively in their communities. Literacy Pittsburgh provides free, personalized instruction in workforce readiness, high school diploma test preparation, digital literacy, English language learning, math, reading, and family literacy through one-to-one and small class instruction. Founded in 1982, it serves local adults through numerous neighborhood locations and its Downtown Pittsburgh Learning Center.