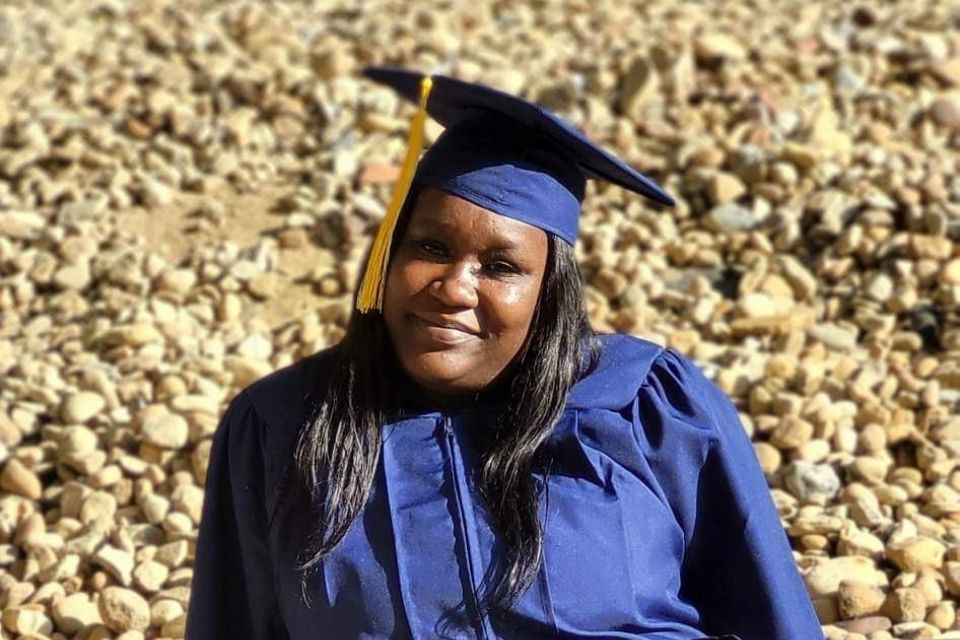 On May 11, 2023, we held our first in-person GED Graduation Celebration since 2019. Students who earned a GED credential from 2020–2023 were invited to attend. One of those students was Breezy, who earned her GED diploma just days before this year's ceremony. In fact, she was so eager to attend that registered for graduation before she had even passed her last test!
 Breezy's teacher Terra Teets says, "When she told me she passed her final test, I was not at all surprised, but joyful and elated nonetheless. I knew she had put in the work to make it happen. She is more than ready to move on to college and into her career."
Despite juggling new responsibilities as a mother and prioritizing providing for her little boy, Breezy attended class as much as she could, listened closely, and asked great questions. She also made it a point to warmly welcome all new students, build friendships, and openly celebrate her classmates' accomplishments. 
Q&A with Breezy
Why did you decide to come to Literacy Pittsburgh?
My best friend was using the tutoring service, and I decided to join her. It was the best decision I made in my life.
Tell us about the goal you achieved and what it means to you.
After years of not being in school, I decided to go back to get my GED. Literacy Pittsburgh made it very easy for me to sign up and get started with a class right away. After roughly two years, I received my GED. This accomplishment really means a lot to me. I thought I would never finish school.
What has your experience been like at Literacy Pittsburgh?
My experience at Literacy Pittsburgh has been great. I've had about four teachers, and they were all wonderful and made sure I had everything I needed. Terra was especially great. She pushed me and made sure I came to as many classes as I could. She even offered to watch my son while I took the test.
What advice would you give a new Literacy Pittsburgh student?
Just keep pushing, and attend as many classes as you can. As long as you show up, Literacy Pittsburgh will help you succeed.
What's next for you?
I plan on starting a college course that will jump-start a career in the medical field. Since I was a kid, I've always wanted to be a doctor and help people. Even though I may not be a doctor, I will still find my way to impact the world.
Tell us something about yourself.
I grew up in Pittsburgh and I have a one-year-old son. When I'm not in class, I take care of my family and have fun with my son.
Literacy Pittsburgh (formerly Greater Pittsburgh Literacy Council) helps create better lives through learning. Recognized as a national leader in adult and family literacy, Literacy Pittsburgh is the largest provider of adult basic education in Allegheny and Beaver Counties. Last year, Literacy Pittsburgh helped some 3.700 individuals acquire the skills needed to reach their fullest potential in life and participate productively in their communities. Literacy Pittsburgh provides free, personalized instruction in workforce readiness, high school diploma test preparation, digital literacy, English language learning, math, reading, and family literacy through one-to-one and small class instruction. Founded in 1982, it serves local adults through numerous neighborhood locations and its Downtown Pittsburgh Learning Center.