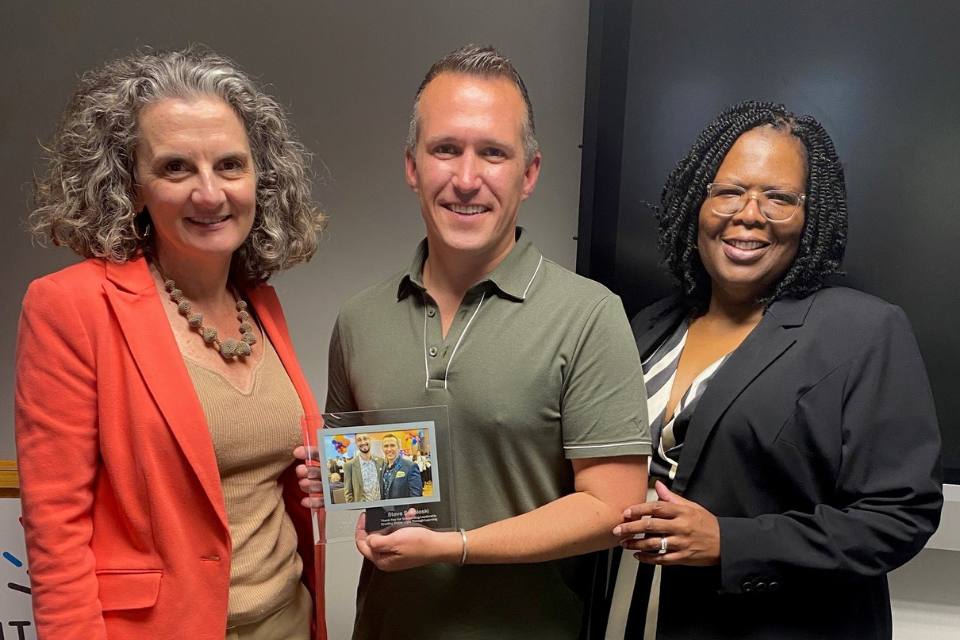 At the June 7 board meeting, we thanked Steve Sokoloski for his service as Board President. CEO Carey Harris and incoming Board President Andrea Clark-Smith presented Steve with a gift to express our thanks. Steve joined our board in 2010 and has served as President since 2021.  He and his husband, Derick Stalker, have co-chaired One Big Table: An International Tasting for several years. He has served on our Development Committee and was a founding member of our Young Professionals Board. We are grateful to Steve for sharing his time, talent, and treasure to benefit our students. Steve will remain on the Board of Directors and Executive Committee as Immediate Past President.
On July 1, Andrea Clark-Smith will become our newest Board President. Andrea joined our board in 2020, serving as Secretary for the past year. She is associate chief legal officer and senior vice president of employment, labor, and physician contracting at UPMC.
Our new Vice President will be Leslie Gromis Baker who also joined the board in 2020 and currently serves as Nominating Committee Chair. She is senior principal, government relations for Buchanan Ingersoll and Rooney.
Danell Cooper, CFO of KidsVoice, remains as Treasurer, and Scott Bartlett of Rich Foods stays on the Executive Committee as Secretary.
We congratulate Andrea Clark-Smith and Leslie Gromis Baker on their new roles and thank Steve Sokoloski for his leadership.
Literacy Pittsburgh (formerly Greater Pittsburgh Literacy Council) helps create better lives through learning. Recognized as a national leader in adult and family literacy, Literacy Pittsburgh is the largest provider of adult basic education in Allegheny and Beaver Counties. Last year, Literacy Pittsburgh helped some 3.700 individuals acquire the skills needed to reach their fullest potential in life and participate productively in their communities. Literacy Pittsburgh provides free, personalized instruction in workforce readiness, high school diploma test preparation, digital literacy, English language learning, math, reading, and family literacy through one-to-one and small class instruction. Founded in 1982, it serves local adults through numerous neighborhood locations and its Downtown Pittsburgh Learning Center.