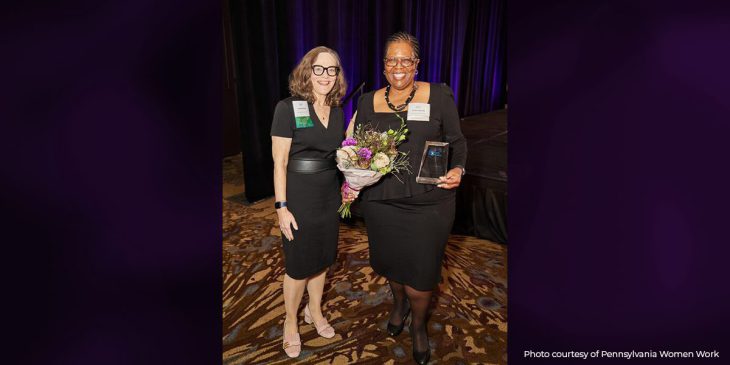 Literacy Pittsburgh Board Member Andrea Clark-Smith was honored last November by Pennsylvania Women Work with their Diversity and Inclusion Award. Her remarks upon receiving this well-deserved award reflect the essence of our DEIA efforts at Literacy Pittsburgh. It seems particularly fitting to share her words in celebration of Black History Month.
I must admit that while I genuinely appreciate the recognition, it is a bit surreal to be recognized for my actions in the Diversity and Inclusion space—because for me being an advocate for diversity and inclusion feels as natural and instinctive as breathing. You see, to me, advocating for diversity and inclusion means advocating for access, acceptance, opportunity, and development. I believe that we cannot learn and grow without exposure. And to me, learning requires including people who are different than me, inviting them to sit next to me, listening to their stories, sharing my experiences, appreciating our differences, and identifying our commonalities. And then taking what we learn and putting it into action by incorporating what we have learned into our personal lives, our work, and our community. 
We label a lot of the learning in this space as "Diversity and Inclusion." But I think that is really just about being our brother's keeper—being curious, respectful, and using what we learn to reach and teach others and hopefully make a positive difference in someone else's life along the way.   
So, in furtherance of this recognition, I am going to part with a challenge to each of us: I challenge us to take some time over the next six months to get to know someone who is visibly or ideologically different than you. I further challenge you to invite that person into your life in a meaningful way, and share a bit of yourself with him or her and try to find the common ground that connects the two of you as humans.  It is my hope that if you take on the challenge, you too will experience the joy of connection and understanding that is so important to our over well-being—and really serves as the essence of what diversity and inclusion are about. 
Literacy Pittsburgh (formerly Greater Pittsburgh Literacy Council) helps create better lives through learning. Recognized as a national leader in adult and family literacy, Literacy Pittsburgh is the largest provider of adult basic education in Allegheny and Beaver Counties. Last year, Literacy Pittsburgh helped some 3.700 individuals acquire the skills needed to reach their fullest potential in life and participate productively in their communities. Literacy Pittsburgh provides free, personalized instruction in workforce readiness, high school diploma test preparation, digital literacy, English language learning, math, reading, and family literacy through one-to-one and small class instruction. Founded in 1982, it serves local adults through numerous neighborhood locations and its Downtown Pittsburgh Learning Center.